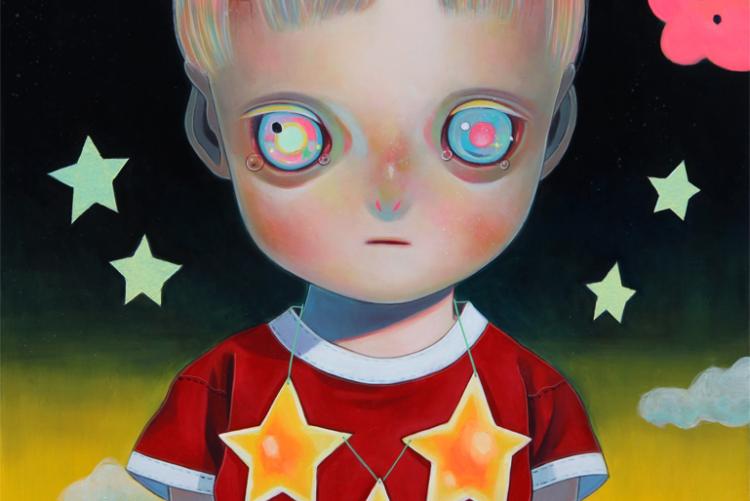 Hikari is showing her painting Children of This Planet #27 in "Paradigm Shift", a charity group exhibition organized by Keane Eyes Gallery in San Francisco.
The show opens tonight from 6:00pm to 10:00pm, and also features new works by: Aaron Nagel, Brian M. Viveros, Dorielle Caimi, Eloy Morales, Hikari Shimoda, Hueman, Jaybomonk, Joey Colombo, Kit King, Mab Graves, Margaret Keane, Muzae Manfred Kielnhofer, Nathan Wong, Peter Gronquist, Roby Dwi Antono, R.M. Kavanagh, Scott Covert, Shark Toof, Tigran Tsitoghdzyan, Young Chun and Zio Ziegler.
Children of this Planet #27
Oil on cotton, mounted on panel
16" x 12.5" inches
For previews and purchase inquiries, please contact the gallery at [email protected].
A "paradigm shift" refers to a shift in direction of any business or strategy of a nation from the past for the betterment of future. 5% of all the artwork proceeds will be donated to The Guardsmen, a non-profit group of Bay Area men mobilizing their significant talents and resources to enhance and improve the lives of at-risk youth. This all-volunteer organization, founded in 1947, provides access to high-quality educational and outdoor activities for inner-city youth.
"Paradigm Shift" will be on view October 21st through November 10th, 2017 at:
Keane Eyes Gallery
3040 Larkin St.
San Francisco, CA
Tel: (415) 922-9309