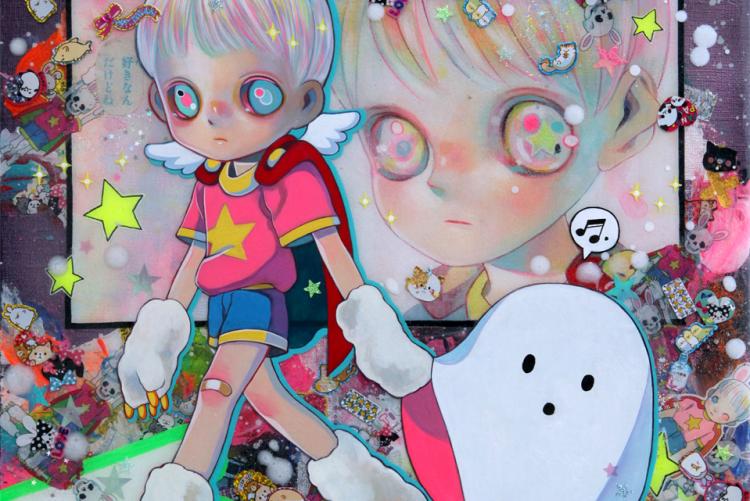 Hikari will show for the first time at Dorothy Circus Gallery Rome this weekend, as part of their 10th Anniversary celebration. Titled, "Pages from Minds Travelers Diaries", the show is featuring brand new artworks by 25 international artists from the Pop Surrealism scene. The show opens this Saturday, November 11th, 7:00pm - 9:00pm, and there will be a private previewing at 5:30pm.
Featuring artists: Adam Wallacavage (USA), Alessia Iannetti (IT), Hikari Shimoda (JP), Gary Baseman (USA), Kukula, (IL), Kwon Kyung-yup (KR), Millo (IT), Clementine de Chabaneix (FR), Leila Ataya (RU), Miss Van (FR), Naoto Hattori (JP), Natalie Shau (LT), Nouar (USA), Scott Musgrove (USA), Tara McPherson (USA), Zoe Byland (CH), Sas Christian (UK), John Brophy (CA), Kris Lewis (USA), Amandine Urruty (FR), Atsuko Goto (JP), Greg Craola (USA), Ozabu (JP) and Rafael Silveira (BR).
Today Is a Good Day to Die
Acrylic, oil, stickers, medium, mounted on panel
19.7" x 15.7"
For previews and purchase inquiries, please contact the gallery at [email protected].
On the show's theme, curator Alexandra Mazzanti shares: "Each one of us was assigned his own journey. We bring into it our family background, carrying in our hearts our family members and the special people we meet, who become deeply rooted in a personal circus we travel with constantly. Each of us has his unfollowed path to go through, his own doors to unlock in order to free his soul, to sail out into the infinite visions coming from his mind. The place we reach is not down any map, as true places never are. It might be the secret garden where the holy blue resides or the glorious land of a still time and memory. By experiencing, dreaming, and discovering we fill our suitcase with ghosts of love and emotions. While losing sight of the shore, we are finally wanderers and we discover ourselves."
Hikari's painting is featured in the exhibition's hardcover catalogue, "Pages from Mind Travellers Diaries" and is the fifth book released by Dorothy Circus Gallery, presenting an immersive look at London and Rome 10th Anniversary exhibitions, as well as shows curated between 2014-2017. The 116 page book also features special contents and essays by curators Alexandra Mazzanti, Jonathan Levine and Caro Buermann. To order, please contact [email protected].
"Pages from Minds Travelers Diaries" will be on view November 11th, 2017 through January 30th, 2018 at:
Dorothy Circus Gallery
Via dei Pettinari 76
Rome Italy, 00186
Tel: +39 06 68805928