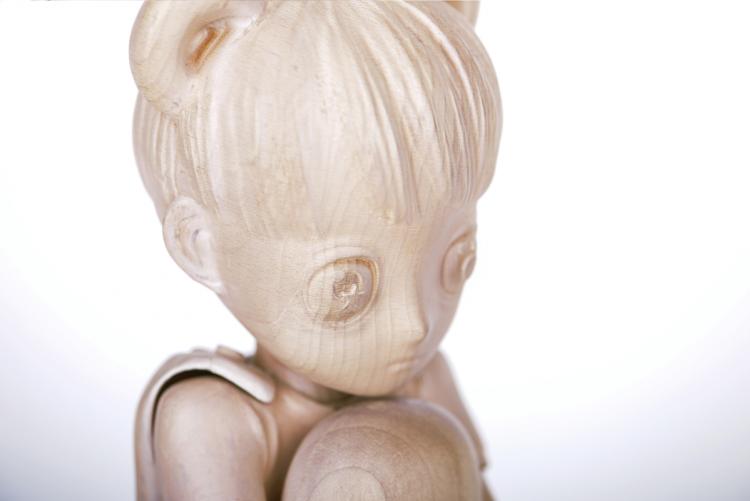 Hikari is teaming up with Apportfolio Asia on her second art figure inspired by her popular characters, Lonely Hero and Obake. Apportfolio is the company behind Hikari's successful figure "Child of this Planet" which sold out in under a minute upon its release. Lonely Hero and Obake drop on April 12th at Shanghai Toy Show, APPortfolio Booth #B38 - followed by an online release at Apportfolio's website on April 15th, 10:00pm GMT.
Hikari Shimoda's "Lonely Hero and Obake", produced by APPortfolio
Material: Birch (wood)
Size: 20.5(w) x 12(d) x 29.5(h) cm
Limited to 118 pieces, with signed Certificate of Authenticity
$1360
Hikari's Lonely Hero is a lonely magical boy, the last boy on the planet, destined to save the world from humanity. The character made his first appearance in Hikari's 2011 painting entitled "Lonely Hero", and has been a fixture in her work ever since. Obake, the Japanese word for "ghost", is his friendly counterpart, a spirit representing the human race.
She shares, "In my pieces portraying heroes and the magical girl, they are living in a world after the human race has been destroyed, or a sort of vortex going into ruin. They are entering into the future of what will soon become the real world... some are even existing in my own mind. In addition, rather than being alive, I think of them as having more of a spiritual presence- they are not living in our world."
Stay tuned for details about the full-color colorway edition!
Don't miss your chance to own this beautiful, super limited edition piece!