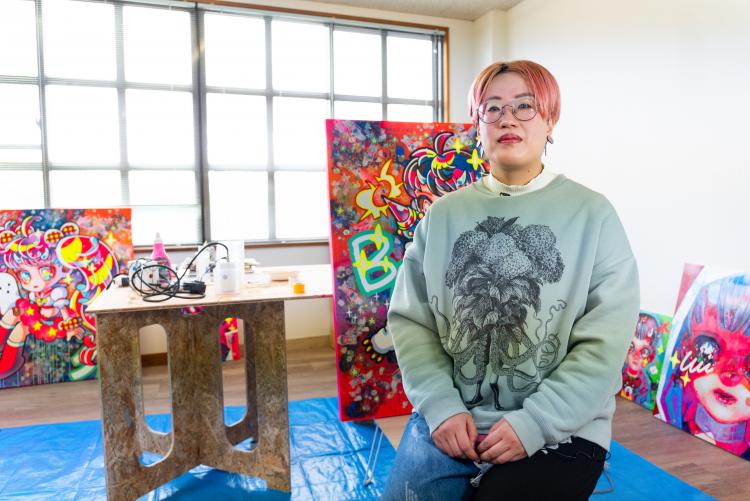 Forward Fashion is pleased to announce that Artelli, the Group's pioneering multi-dimensional premium art space, has officially opened in Zhangyuan, Shanghai. As a part of the opening, the new collection by contemporary Japanese artist Hikari Shimoda, Children of this Planet, is being showcased simultaneously in Shanghai, Macau and Taiwan for the first time.
Shop now exclusively at Artelli!
Zhangyuan, where Artelli in Shanghai is located, is a famous cultural landmark in China. It is a renowned classical garden in the Huangpu District of Shanghai, once a luxurious residential area in the heart of the city during the Ming and Qing Dynasties and one of the earliest Western-style gardens in Shanghai. This area is located in the business center of Nanjing West Road Station, with over three million people passing through every day. Hikari Shimoda's new series, Children of this Planet, will have its global debut in Artelli in Zhangyuan, Shanghai, and then be presented to art and fashion lovers at City of Dreams in Macau and Taipei's Xinyi A13. This is her second time showcasing her work in China, following her solo exhibition in Hong Kong in 2019. The highlight of Children of this Planet is her latest giant sculpture, the 160 cm tall life-size "Amitabha". The sculpture was previously staged at the ART021 Shanghai Contemporary Art Fair, but the color palettes of the sculpture displayed at the three Artelli locations will be unique. Forward Fashion intends to facilitate Hikari Shimoda's visit to Macau to meet her fans and the local community, organize an autograph session and exchange creative experiences to promote the development of trendy local art and culture.
Shop now exclusively at Artelli!

In addition to the Children of this Planet, a limited number of 20 premium custom-made "Amitabha" sculptures from the fantasy world will be available for sale. Made of fiberglass, the 20 different color palettes perfectly reflect the candy-colored art style used by Hikari Shimoda. Moreover, each sculpture is carefully crafted, making them unique gems. A deeper meaning is hidden in the adorable brightly colored characters. Through Amitabha, Hikari Shimoda hopes to evoke thoughts of life and death, the changing global environment, and the relationship between society and people.
Shop now exclusively at Artelli!

In addition to life-size sculpture, Hikari Shimoda is also introducing for the first time 15 cm-sized small sculptures with exquisite, perfectly-fitting parts that showcase a high level of craftsmanship. Shimoda creates multiple characters in this series, including those from human world, heaven and hell. Even though these characters belong to a fantasy world, surrounded by a complex and changeable environment and different scenarios, they all strive to remind audiences to maintain the energy and spirit of moving forward.

Hikari Shimoda has also presented sculptures and bronze sculptures in different sizes, prints using electroluminescent (EL) technology, and diffusers to the viewing. For audiences interested in the viewing and art collections, they can follow Artelli's official WeChat account or visit official website: www.artelli-meta.com for more information.
"Children of this Planet" - Shanghai
Date: 4/24/2023 - 5/24/2023
Venue: No. 588, Weihai Road, Lane 588, Zhangyuan W1, Jingan District, Shanghai

"Children of this Planet" - Macau
Date: 4/26/2023 - 6/20/2023
Venue: The Showroom, City of Dreams, Estrada do Istmo, Cotai, Macau

"Children of this Planet" - Taiwan
Date: 5/1/22023 - 5/28/2023
Venue: 1/F, Far Eastern Department Stores, A13 Xinyi District, Taipei