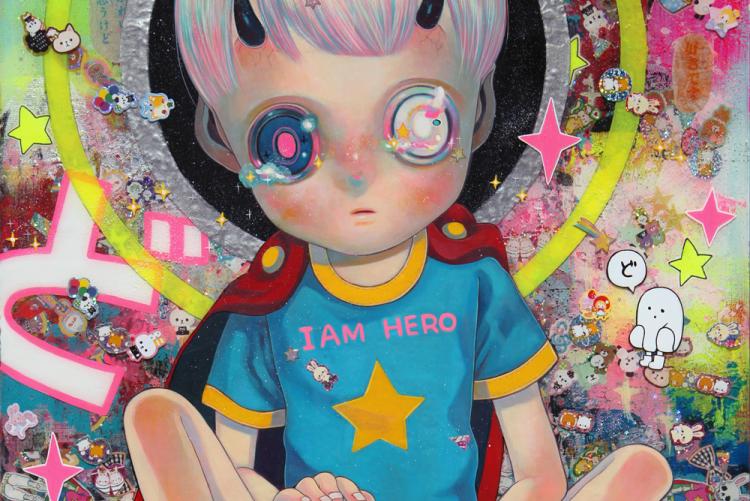 Corey Helford is celebrating their 10th anniversary this month! Congratulations, and big thanks to Jan for all the love and support over the years!! Hikari is participating in this over-100 artist show with a new painting titled "Memento Mori (do)".
She shares: "The theme of my piece is Memento Mori ("remember that you have to die"). I experienced a major shock that was the Great East Japan Earthquake in 2011, and even though five years have passed, it's impossible to forget that shock. It's still hard to believe that such a thing could have happened in the world. I think about death in this way quite often, and I do not forget where we have come from."
"Memento Mori (do)"
18 x 21"
Mixed media (Acrylic, oil, stickers, medium, mounted on canvas)
"In our escape from death, we become like our own constant reminders of it. Regarding the word "do" in my title, my piece is also addressing themes like anger, something which I call "dododo" (the sound of something looming), and so on. The image is meant to represent the disturbing mood of today's world."
Corey Helford Gallery's 10th anniversary exhibition will be on view August 27th through September 24th. For previews and purchase inquiries, please contact: [email protected]
For more information, please check out the gallery's website- you can also RSVP on Facebook!
Corey Helford Gallery
571 S. Anderson Street, Unit 1
Los Angeles, CA 90033