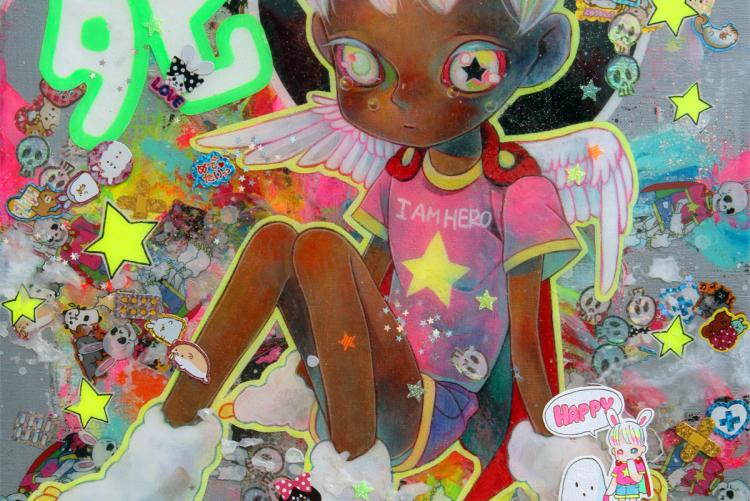 Hikari has a new painting in Corey Helford's popular group show "Art Collector Starter Kit", which returns this Saturday, April 1st! This marks the show's fourth installment, featuring 12"x12" works by over 50 of the best New Contemporary artists priced affordably for new collectors, including Shag, Miho Hirano, Luke Chueh, Jasmine Becket-Griffith, Hannah Yata, Liz McGrath, Brandi Milne, and many more. Check out the Facebook event here!
Memento Mori Shi
Mixed media (acrylic, oil, stickers, paper collage on canvas)
13.1" x 13.1"
About her painting, Hikari shares: "This work centers on the theme of Memento Mori. I put the Japanese character for shi ("death") on the upper left, as this is an angel sent from the spirit world to be a hero to the humans. This character, whom I call "Usagi Chan" (rabbit hero), is surrounded by "murmurs" represented by cute, happy stickers, which overlap with images of skulls - these multi-layers are my way of suggesting the work's complicated meaning." Here's some images from when Hikari was working on the piece:
For previews and purchase inquiries, please contact the gallery at [email protected].
Art Collector Starter Kit 4 will be on view April 1st through April 29th, 2017 at:
Corey Helford Gallery
571 S Anderson St (Enter on Willow St)
Los Angeles, CA 90033
Tel: (310) 287-2340
Hours: Tuesday-Saturday: noon to 6pm