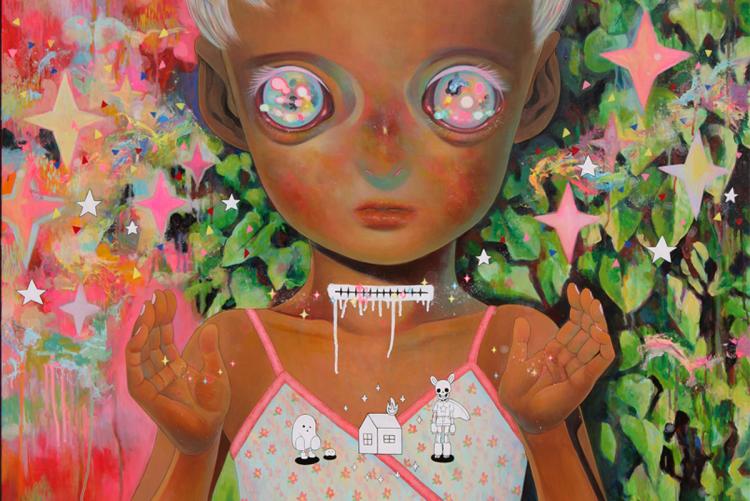 Hikari's art will be on view at CONTEXT New York this week, with two new paintings from her "Whereabouts of God" series. Her work will be on display over at Corey Helford Gallery booth# C206. The paintings first debuted in Hikari's exhibition at the gallery earlier this year, "Memento Mori".
Whereabouts of God #26
Oil on canvas
20.9 x 17.9"
Hikari shares: ""Whereabouts of God" is an ongoing series begun after the Great East Japan Earthquake and accident of Fukushima Nuclear Power Plant occurred in March 2011. The scars shown on the characters' necks represent a sort of "Chernobyl necklace"... I painted these scars as warnings about the future, while the twinkling stars around the scar represent my personal, happier wishes for our future. I have expanded on this series here to include characters of multiple races."
For previews and purchase inquiries, please contact the gallery at [email protected].
Whereabouts of God - Nobody #3
Oil on canvas
63.8 x 51.3"
"The first works of my series "Whereabouts of God" were inspired by the nuclear accident of Fukushima, a problem that could have occurred anywhere and to anyone on the planet. This is why the children in this series are of multiple races. They are not anyone in particular, thus the titles "nobody", and represent all people of the planet at the same time."
CONTEXT New York is located at:
Pier 94
55th Street and West Side Highway
New York City
Hours:
Wednesday, May 3: (VIP Preview: 2pm - 5pm), 5pm - 8pm
Thursday, May 4: 12 pm - 8 pm
Friday, May 5: 12 pm - 8 pm
Saturday, May 6: 12 pm - 8 pm
Sunday, May 7: 12 pm - 6 pm