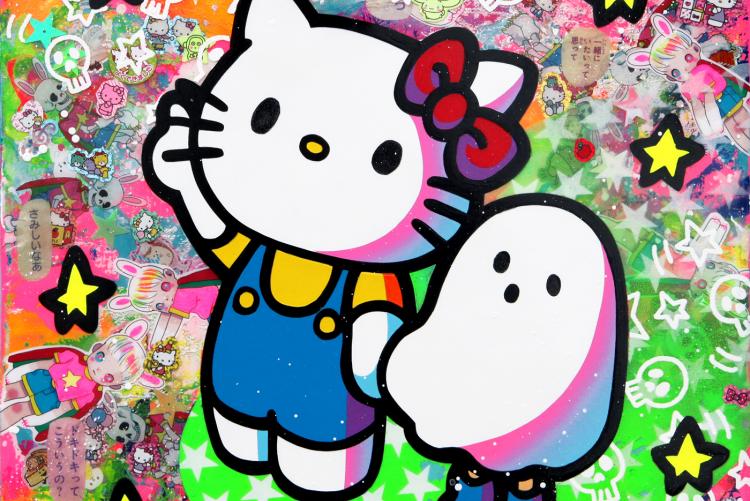 Hikari is taking part in Corey Helford Gallery's next big bash, the Hello Kitty 45th Anniversary Group Show, sponsored by Sanrio, kicking off this Saturday, June 29th!
Hello Kitty has been a symbol of friendship and kindness for 45 years, with a fan base that spans multiple generations. This special group exhibition, featuring 100 artists from all over the globe, examines the world of Hello Kitty and her influence on popular culture. The artists featured in this exhibition have re-interpreted the iconic image of Hello Kitty and her friends in their own aesthetic through a wide variety of mediums including painting, sculpture and animation.
"When You Wish Upon A Star"
Acrylic, oil, stickers and medium
13.1" x 13.1"
$2,500
For previews and purchase inquiries, please contact [email protected]
Hikari shares, "Hello Kitty has a strong image of being a close friend of everyone, so this time I wanted her to appear in my artwork with Obake, a ghost friend who appears in my work. I also used Hello Kitty stickers as a collage material. I remember always seeing various Hello Kitty items fro ma very early age on a daily basis... I had Hello Kitty school supplies, a bag and water bottle. She was so familiar to me, and I think she was probably the first character product I ever had in my life. My all time favorite was a red bag with Hello Kitty printed on it."
Hikari's painting will also be sold as a print, limited edition of 50, with a signed and numbered COA, available at the opening! Prints will be available on a first come, first serve basis, and then if there are still available prints after the opening, please contact [email protected]
Hello Kitty's 45th Anniversary Group Show will be on view June 29th through August 3rd. For previews and purchase inquiries, please contact [email protected]
For more information, please check out the gallery's website- you can also RSVP on Facebook!
Corey Helford Gallery
571 S Anderson St (Enter on Willow St)
Los Angeles, CA 90033
Tel: (310) 287-2340
Hours: Tuesday-Saturday: noon to 6pm