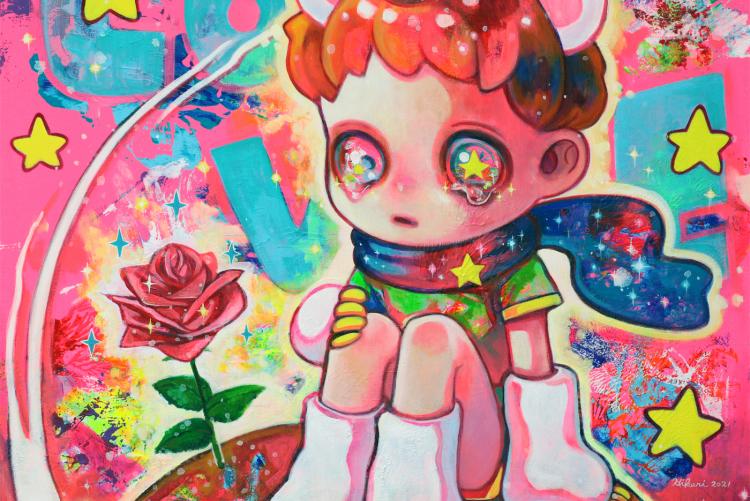 Popular French classic novella The Little Prince is one of the best-selling books ever published. Kicking off on June 29th in Hong Kong, Hikari Shimoda will participate in a special celebration of the beloved children's tale, curated by ARTboratory.
ARTboratory describes the event as "an art project with renowned artists from all over the world including United Kingdom, United States of America, Japan, Thailand and China. Through the crossover art pieces in different characteristics, the audience is brought to revisit Planet B612 and its philosophy."
The Little Prince 恋の痛みと孤独
English: The Little Prince (Pain of Love and Loneliness)
Oil and acrylic on canvas
28.6" x 28.6"
For purchase inquiries, please contact ARTboratory at [email protected]
Participating artists include Dave White, Hikari Shimoda, Joey Leung, Parn Aniwat, Yoskay Yamamoto, Yosuke Ueno, Zeng Jian Yong & Zhang Tian Mu. A series of The Little Prince x Hikari Shimoda limted edition products will be available to purchase at ARTboratory online. Details to follow.
The art show will be held from June 29th, The Little Prince Day, at 7 Mallory Street in Wan Chai located in a beautifully refurbished Grade II listed historic building.
"One Must Look With the Heart"
June 29th – July 12th, 2021
Hours: 11:00am to 8:00pm
Venue address: 4/F 7 Mallory Street Wan Chai Hong Kong
Stay tuned for news and updates about Hikari Shimoda x The Little Prince!