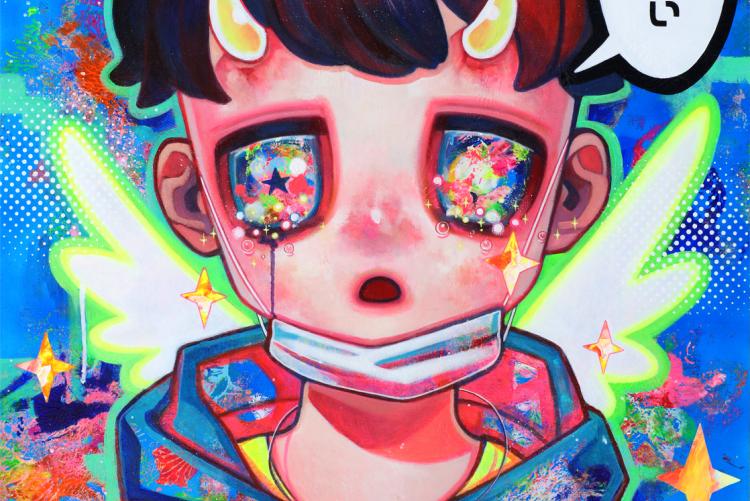 Hikari Shimoda's solo exhibition "To You in Heaven" is scheduled to open today, July 2nd at the Marc Jacobs BOOKMARC store in Tokyo. The exhibit will feature a series of fifteen new paintings by Hikari, as well as limited edition prints and postcards sold exclusively by Marc Jacobs. Check out this post for a preview!
To kick off the exhibition, @MarcJacobsJapan will host an Instagram livestream event with Hikari @HikariShimoda, who will walk viewers through her new exhibition and answer questions in English and Japanese, led by curator, Caro Buermann. The livestreaming event still start at 7:00PM PST on July 1st / 11:00AM JST on July 2nd. The in-person opening event at BOOKMARC wil start at 7:00PM JST and is free to the public.
"Angel Who Wants to Die #1"
Limited Edition of 200, Giclee on Kakita 300g Paper
Signed and Numbered by the Artist
Image size: 81.2 x 64.9 cm (32" x 25.5")
Paper size: 86.3 x 70 cm (34" x 27.5")
39,000 JPY ($350)
Print inquiries: [email protected]
Attendees of the event will be able to purchase a signed copy of Hikari's new art book, "The Art of Hikari Shimoda" and a commemorative limited edition print. Produced by Megumi Ogita Gallery, the print is a full scale reproduction of Hikari's painting, "Angel Who Wants to Die #1", limited to 200 pieces. Prints wil be sold on a first come, first serve basis at the event. For original artwork inquries, please refer to the information listed here.
Precautions when visiting the store: Due to measures against the new virus COVID-19 infectious disease, we ask that you disinfect your hands and wear a mask when you enter the store. The number of works and products prepared is limited. Customers who plan to attend the opening reception are requested to wear a surgical mask and your temperature will be taken when entering the store.
Hikari Shimoda Solo Exhibition "To You in Heaven"
Dates: Friday, July 2, 2021 – Wednesday, July 28, 12:00 -19:30
Opening Reception: Friday, July 2nd 19: 00 ~
Location: BOOKMARC 4-26-14 Jingumae, Shibuya-ku, Tokyo