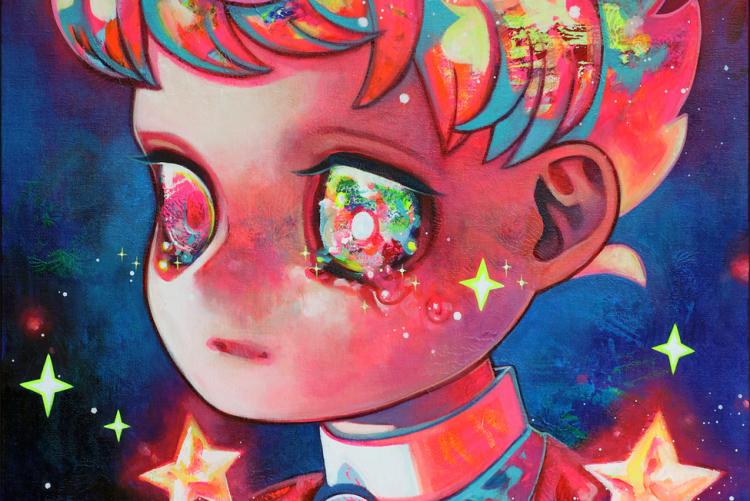 Opening today in Los Angeles, Corey Helford Gallery, in partnership with The Little Prince, will host a special group exhibition to commemorate 75 years of one of the most beloved and influential novels of all time, Antoine de Saint-Exupéry's The Little Prince. The Little Prince 75th anniversary group show will feature new works from artists from around the globe, celebrating the theme "Looking with the Heart."
Check out Hikari's new painting for the show below!
"Lonely Prince"
Oil and acrylic on canvas, mounted on panel
25.75" x 20.875"
Limited edition prints will also be made available to purchase exclusively through the gallery, to event attendees on opening night, on a first come, first serve basis. After the opening event, any remaining prints will be made available to purchase on the gallery's online print shop.
Please note: As coronavirus cases continuing to rise, CHG will be requiring proof of COVID-19 vaccination as a condition of entry into the gallery, plus masks will be required and 200 people at a time will be allowed into the gallery's 12,000 square foot space, which will be monitored by CHG's staff. After opening night, CHG returns to their regular visiting hours (Thursday through Saturday from 12:00 pm – 6:00 pm).
"The Little Prince: Looking With the Heart" opens August 14th, 7-10pm at Corey Helford Gallery, located at:

Corey Helford Gallery
571 S Anderson St (Enter on Willow St)
Los Angeles, CA 90033
Tel: (310) 287-2340
Temporary hours: Thursday-Saturday: noon to 6pm