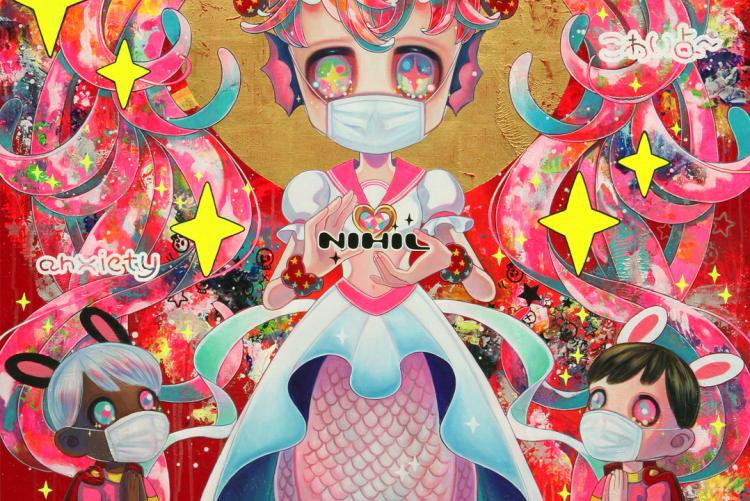 Available this Friday from Eyes on Walls!
Hikari's popular painting "Virtual Worship" is now available as a special limited edition print! Please note that sales will be limited to one per customer!
"Virtual Worship" by Hikari Shimoda
Signed and numbered edition of 300 prints.
27" x 21" inches
Bright White Acid Free 230gsm Premium Matte paper.
Hand Embossed.
Includes a certificate of authenticity.
Available Friday at 11:59AM EST!
On her original painting, painted at the height of the pandemic in 2020, Hikari shares:
"During the pandemic in Japan, the image of the goddess "Ambie" has become popular in Japan. Dating from 1846, she is a legendary Japanese mermaid with three legs, who allegedly emerges from the sea and prophesies either an abundant harvest or an epidemic. Many Japanese do not believe in such a god. However, when something goes wrong, we often pray to God and in this case, anything that helps us. We call upon God in a difficult time. People should be the ones who fight infectious diseases, but this psychology of wanting to rely on a greater power in a difficult situation is common throughout the world.
I've combined the image of "Amabie" with a 'magical girl' who has been the constant savior figure in my works for a long tme. She depicts the modern day belief system and false hope that anything can be solved with the help of God."
Check out more photos of the print below!