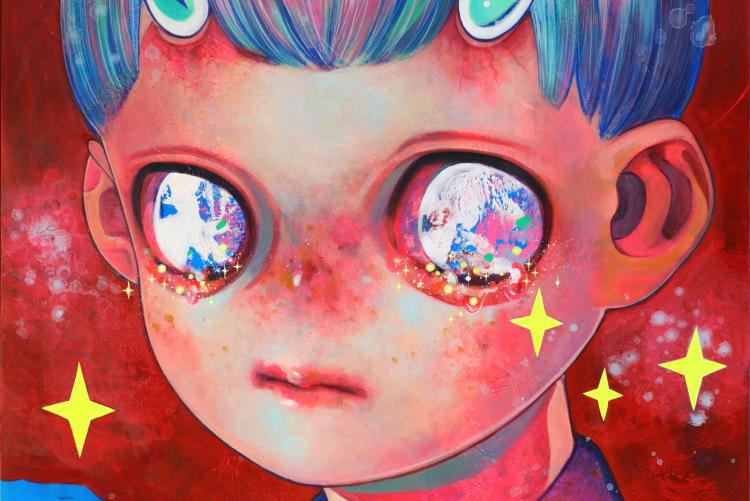 Hikari's art will be on view at PAN Amsterdam this week with her painting, "God Is Dead, but... #4". Her work will be on display over at Jaski Gallery stand number 39. The painting is #4 in a new series of works that Hikari debuted in Tokyo this year.
God Is Dead, but… #4
Acrylic and oil on canvas, mounted on panel
28.6" x 28.6"
For previews and purchase inquiries, please contact the gallery at [email protected]
Hikari shares: "I have been producing the "God's Whereabouts" series for 10 years. This is a work with the theme of "invisible anxiety" inspired by the Chernobyl necklace after the accident at the Fukushima Daiichi Nuclear Power Station in 2011, but 10 years have passed and the human body of the nuclear accident. International research results have been announced that the impact on the disease is extremely minor and there is no problem. It also means that one conclusion was reached in the part that was the theme of this work. Therefore, I decided to end the "God's Whereabouts" series and start a new series that inherits the theme that is the basis of the series.
"God is dead" is the word of the philosopher Nietzsche. Negation of clinging to fiction, affirmation of nothingness. There is always anxiety about denying God and living in reality. The truth is to keep asking and staring at something. It is a painful and sad task that requires a great deal of energy. It conceptually depicts the image of the person facing them."
PAN Amsterdam is on view November 14th through 21st, and is located at:
Amsterdam RAI
Europaplein 24, 1078 GZ
Amsterdam, Netherlands
For more information and event details, click here.