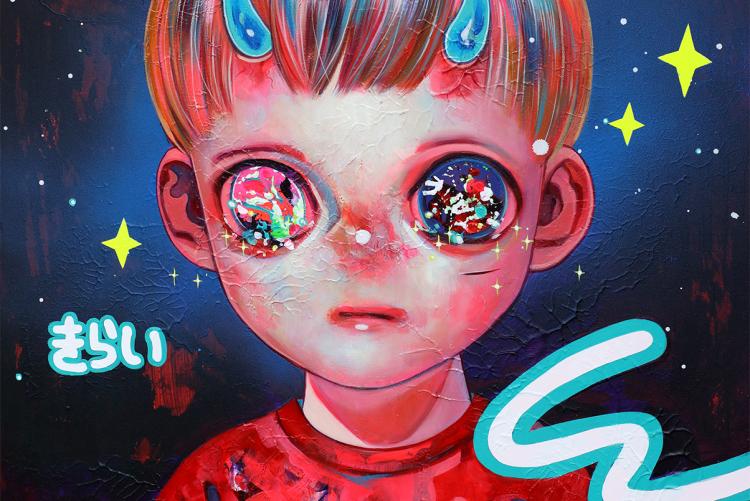 Hikari has a new painting in Outré Gallery's annual group show, the VANGUARD Invitational, which returns this Friday, September 9th!
"...the VANGUARD Invitational, an exhibition featuring artists who are leading the way in their creative practices and forging ahead in new frontiers. Each artist brings something totally exceptional to the table – from their execution and technique, to their innovation, creative vision and idiosyncratic flair."
Children of This Planet #55
Acrylic, oil, newspaper collage on canvas
20.9" x 17.9"
Sold
Hikari's contribution is the latest in her signature series, Chidlren of This Planet, featuring her sparkle-eyed children which she began painting in 2011. She shares, "This series is based on my personal problems such as loneliness and anxiety, and expresses them as universal problems today. I use a child as my motif because I think children have an ambiguous gender and their identity is in what I call 'fluctuation', and can express the concept of "human beings as themselves".
In addition, the stronger the cartoon-like deformation of a person, the farther away they are from being a specific individual, and the more anonymity is acquired and universal it becomes. The purpose is for the viewer to empathize with the character's emotions as his or her own."
VANGUARD Invitational will be on view September 9th through October 2nd, 2022 at:
Outré Gallery
249-251 Elizabeth Street, Melbourne, VIC 3000, Australia
Monday–Friday 10am–5:30pm
Saturday 10am–5pm
Sunday 12pm–4pm