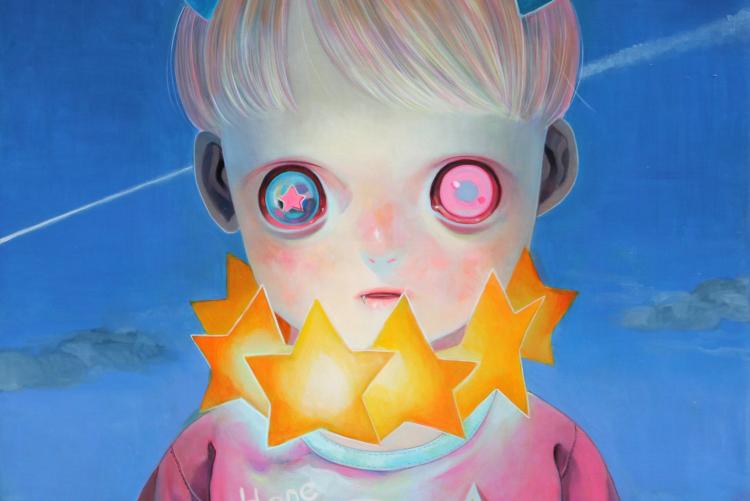 On October 26th, meowlab will launch Children of This Planet #9 as a gorgeous, limited edition luminous sculpture. Limited to just 188 pieces, the sculpture is a faithful replica that brings the original 2013 painting to life with a glowing effect in total darkness. The pre-order starts on Thursday, October 27th, 12:00PM BJT / Wednesday, October 26th, 9:00PM PST, exclusively sold on meow-lab.com. Check out more photos below!
Children of this Planet #9 Luminous Sculpture
Mixed Media, 22cm (h) x 18cm (d), Edition of 188
Comes with signed COA and numbered on edition.
Screen printed wood box.
Only available at meow-lab.com.
On the meaning of the artwork that inspired her luminous sculpture: "It's been years since the [Fukushima] nuclear disaster, and there has not been any official announcement regarding affected children yet. No one knows if those children will wear a similar "Fukushima necklace" in the future. I couldn't live in Japan without recognizing these concerns. On the other hand, I do hope that is just my personal over-concern. The twinkling scar in this series is a metaphor of my ambivalent feelings. The scar itself is our reality, in which we are still facing problems in Fukushima. The twinkling stars are my wishes."
"As a two-dimensional artist, whenever I see my paintings can become three-dimensional objects and real existence, I always feel very touched," she adds.
妙 meowlab is an aggregation of creative minds connected by art. meowlab creates imaginative next-generation experiences, present pioneering culture across media, and explore our future with an Eastern origin.
This sale is not conducted by the artist. For customer service, please contact meowlab at [email protected].