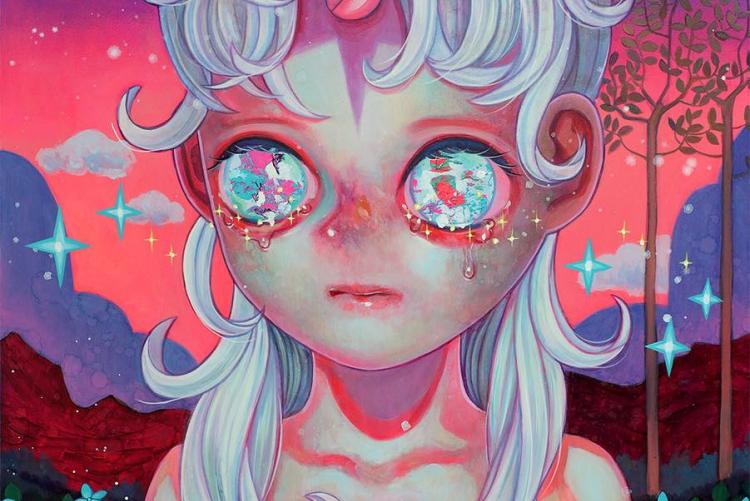 Hikari has a new painting in Corey Helford Gallery's curated group show, celebrating The Last Unicorn 40th Anniversary, opening this weekend in Los Angeles. There will be an opening reception for the show on Saturday, December 17th, 7:00pm to 11:00pm.
"Unicorn Solitude"
Oil and acrylic on canvas, mounted on panel
24" x 18"
To request a preview of the exhibtiion, please contact [email protected].
Hikari shares: "Based on the movie The Last Unicorn, I expressed the beauty and loneliness of a unicorn in my own way. The expression of my world view is also inspired by anime. It is an anime work commissioned and produced by Topcraft (Topcraft was also the production company of Nausicaä, before the studio became Ghibli.) I find it interesting that half of animation in the 1908s was commissioned by the United States. The character design looks almost Western."
Highlights of the event include unique works of art by over 70 internationally renowned contemporary artists in ode to the celebrated film; never-before-seen film art that includes hundreds of meticulously restored frames; and a pop-up shop selling an array of exclusive merchandise. The anniversary party will draw fans from the film's diehard global base in the art, music and animation worlds. The exhibition and pop-up shop will remain open for five weeks, into January 2023.
The Last Unicorn 40th Anniversary will be on view December 17th, 2022 through January 21st, 2023 at:
Corey Helford Gallery
571 S Anderson St (Enter on Willow St)
Los Angeles, CA 90033
Tel: (310) 287-2340
Hours: Thursday-Saturday: noon to 6pm